Meet our fleet of MPV's – V Class Mercedes Benz.
7 Passengers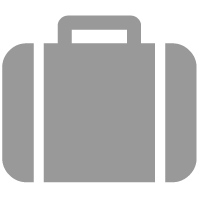 7 Suitcases or Golf Clubs
Arrive in style.
With the Mercedes-Benz V-Class, families have room to grow, adventurers have stories to tell and executives arrive in style.
From the outside, it's design is unmistakeable. And on the inside, it changes to your lifestyle. Whether you're a growing family, a busy executive or a VIP, the V-Class is designed to be whatever car you need it to be.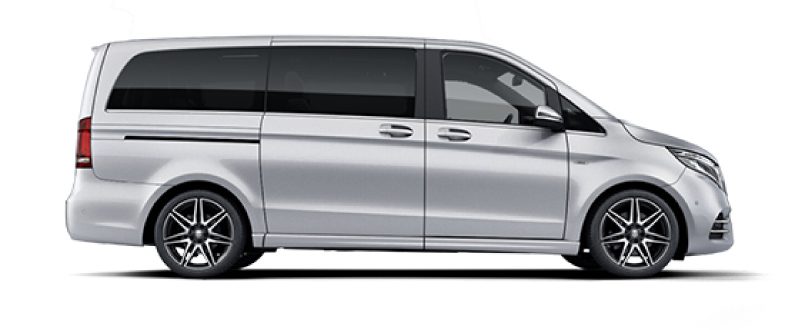 Expressive exterior design.
Even at first glance it's clear: the V-Class has an excellent command of the Mercedes-Benz design idiom. Its expressive exterior design results from the interplay of striking lines and large, smooth surfaces. This contemporary Mercedes-Benz design idiom brings out the poise and assurance of the V-Class's look in an impressive way.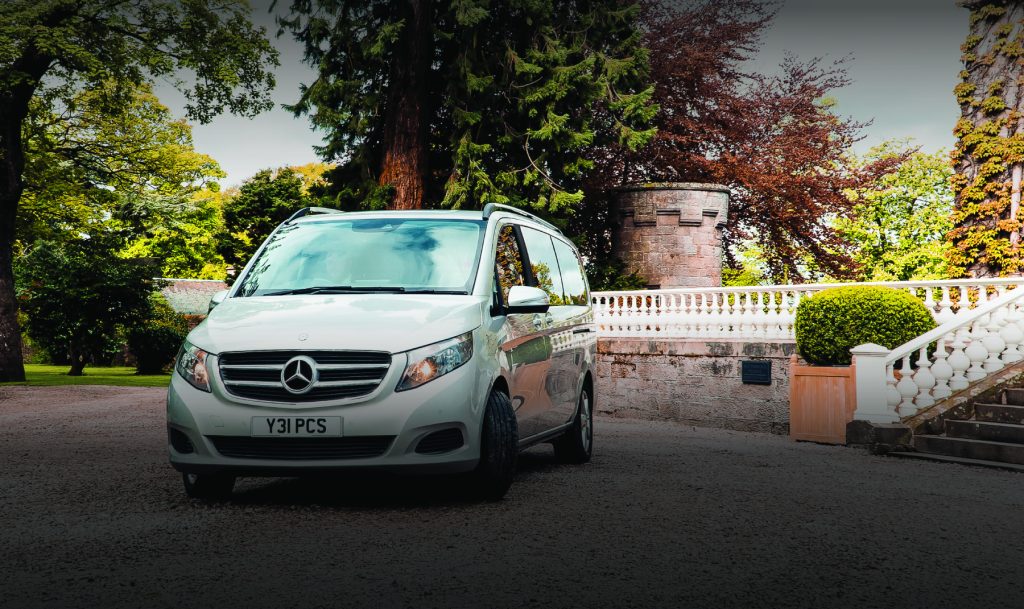 A special space for pleasure seekers.
The high-quality interior of the V-Class will enrich your life with another favourite place. Enjoy the flawless design and premium-quality materials.
Experience the variability of the V-Class.
A flexible interior with multiple seat configurations makes the Mercedes-Benz V-Class a comfortable MPV that ticks all the boxes: spacious, ergonomic, functional and attractive. So not matter what combination of family and activity you've got, the V-Class will be able to help.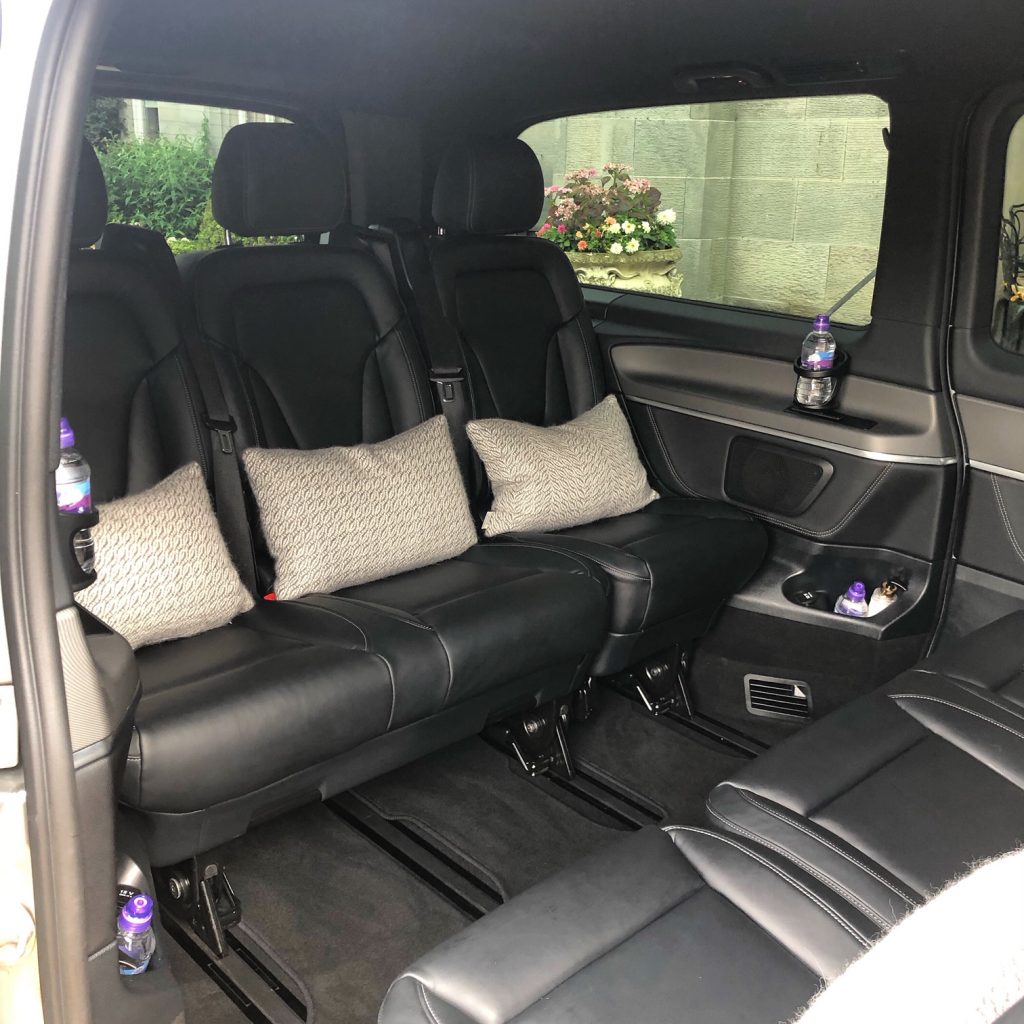 Seating configurations.
Equipped with 8 seats our V Class can be tailored to suit your requirements. Whether you need an executive office for the day or a family outing this is the perfect vehicle for your requests.
Our V Class models have two sets of luxury three-seater benches, adjustable to face forwards or backwards. The V-Class can accommodate up to seven passengers and their luggage, plus comfortable seating, seat nets, additional 12v and 240v sockets and cup holders.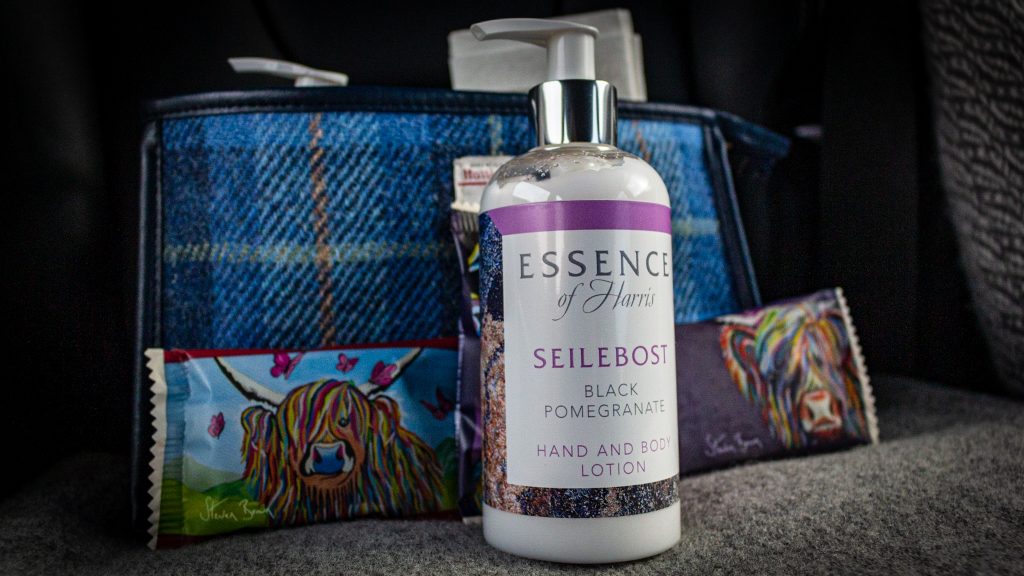 Amenities
Your V Class will come with;
Choice of Luxury Fragrances
Deans Shortbread
Molton Brown Antibacterial Hand Gel
Apple iPads with,
Live Sky TV, Sky Sports, Sky Movies & Sky On Demand
Netflix , Amazon Prime Video, BBC iPlayer & YouTube
Truly-unlimited 4G WiFi
A choice of complementary beverages from our in car fridge
Uniformed Drivers in either,
Suits, Kilts, Trews or Smart Casual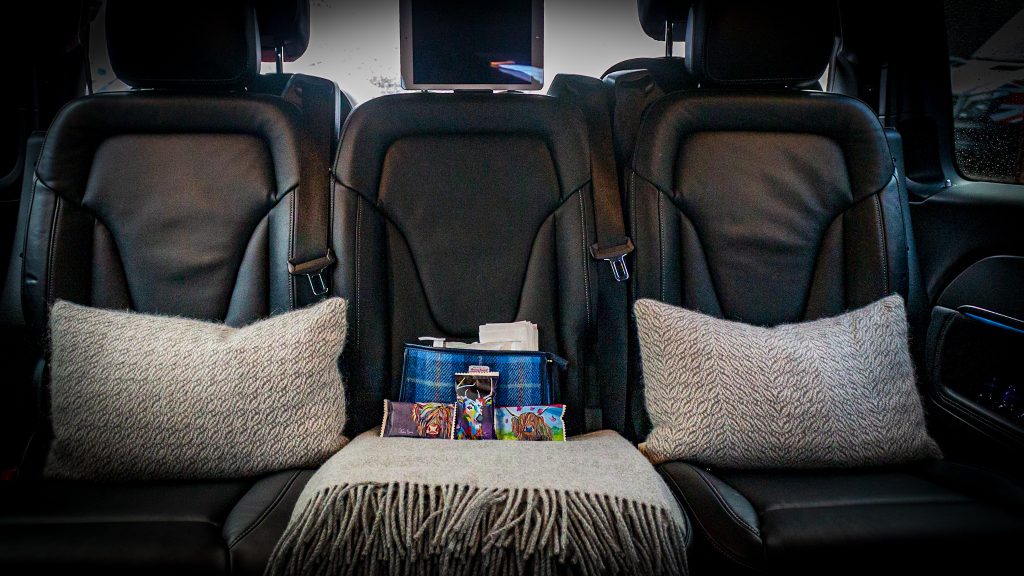 Keeping It Clean
Our vehicles are all thoroughly valeted before being deep cleaned after every client. We get our vehicle fogged by Delta Cleaning Services to ensure that they are sanitary for our clients.
During the Fogging process, a fine mist of antiviral and anti-microbial product is sprayed, reaching all areas of the car. This is proven to kill Corona Virus and will continue to work for some time after the spray. With a kill log of 6, our fleet is fully sanitised and ready to welcome the next passenger on board.
If you need to travel, we are here to ensure you get to your destination safely.
We look forward to welcoming you on board soon!

Get a live quote for our V Class MPV by clicking