A Luxurious 4 day package in collaboration with our partners, MacLean & Bruce. A bespoke offering for our clients looking for the most action packed adventure. This package is ideal for clients with a short time window to visit Scotland.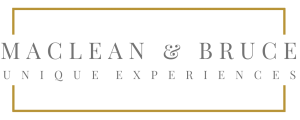 DAY ONE
Coffee & pastries delivered to guests' rooms (refreshments & snacks also available in our luxury transportation)
Private tour of Edinburgh Castle before it opens to the public. With no crowds, guests will have the castle to themselves, which is incredibly special.
Coffee with the Governor of Edinburgh Castle, Major General Alastair Bruce. A close friend of the British Royal Family, Alastair lives in the Governor's house within the fortified wall of Edinburgh Castle.
A private tour in the National Museum of Scotland with a knowledgeable historian who will show guests a small selection of highly significant historical artefacts.
Lunch is served in one of Scotland's finest penthouse suites with 360 views of Edinburgh. Guests will enjoy a glass of Champagne from the terrace before lunch, which will be a contemporary version of the traditional Scottish meal which we enjoy for Burns Night, to celebrate the life and works of Scotland's most famous poet. A piper will pipe from the penthouse terrace, piping guests into lunch in the traditional Scottish manner.
Following lunch guests will enjoy some more Scottish entertainment.
A private tour of the Royal Warrant holders, clockmakers to Her Majesty the Queen, Hamilton & Inches. The workshop tour is absolutely fascinating, and the shop below an Aladdin's Cave of stunning Scottish silver, jewellery and watches. Guests can enjoy a glass of Champagne and some piano music as they explore.
Dinner will be served on board The Royal Yacht Britannia. Piper on arrival, Champagne in the Drawing Room, pianist, a tour of the Royal Family's former private yacht, a fantastic evening on one of Britain's most beautiful royal venues.
DAY TWO
This morning guests will travel to Broomhall House, a magnificent private home on the banks ofthe River Forth. Guests will enjoy a fascinating encounter with Lord Bruce, who will talk about the history of one of Scotland's most important families – The Family of Bruce, while showing guests some of the more important pieces of art and antiquary.
Lunch with Lord Bruce at Broomhall House, cooked by famous Scottish chef, Nick Nairn. Nick will join guests for the final course, and give each guest a signed book.
After lunch a falconry display on the lawn will provide guests with an interesting, interactive encounter with some of Scotland's natural birds of prey.
Take a private tour of a unique distillery, Guests will be invited to hand-fill their own bottle, design their own label, and will of course enjoy a delicious whisky tasting!
We are honoured to invite a very special guest to lunch – the Queen's cousin, Her Royal Highness, Princess Katarina.
Before meeting Her Royal Highness, guests will be given a 1 hour talk on royal protocol (how to behave around British Royalty) by the former butler to The Prince of Wales and his sons, Princes William & Harry. This talk will take place in the castle where guests will be having dinner, in superb comfort and style.
Dinner will be a magnificent medieval banquet in one of Scotland's oldest castles. A huge roaring fire, suits of armour, engraved goblets, the finest food and drink, followed by a Scottish storyteller and fiddle player to entertain.
DAY THREE
A clay pigeon shooting competition at a prestigious venue, with a special guest firearms expert who will give guests tips.
A wild BBQ surrounded by nature – a river and trees. Guests will be invited to join an expert and forage for natural ingredients and shown how they can be utilised in health and nutrition.
Guests will be invited to participate in the preparation and cooking of the lunch, if they wish. Some hidden delights will be waiting for guests as they explore the natural surroundings.
Fishing experts and equipment will be provided for guests to try their hand at one of Scotland's oldest sporting pursuits. This will be suitable for beginners and experts, the opportunity to fish on one of Scotland's most famous rivers will be very memorable and enjoyable.
Private tour of a distillery after it has closed to the public.
Dinner in a distillery, hosted by the distillery manager and whisky expert, author & legend, Charles MacLean.
DAY FOUR
Today is action packed! Firstly guests will travel by helicopter to a remote location where they will travel to a remote beach by fast boat.
The location is on the mainland, looking out over the Isle of Skye. Once inhabited by one of Scotland's best loved authors, Gavin Maxwell, this little coral beach is home to amazing wildlife, and is a spectacular spot to spend the day.
A BBQ lunch will be prepared by chefs and served by butlers on the beach.
After lunch there will be a competition between guests, who will be taught how to throw axes and archery, the winner will receive a very special bottle of whisky as first prize!
Next we have a former SAS officer to give an outdoor leadership skills session.
Travel to the next location for the evening's accommodation and fun!
A luxury encampment will be built for the night in a spectacular location. The specially built camp will give each guest an en-suite tent and a large communal area where the evening will be spent enjoying Scottish traditional music, food, drink, cigars and dance by firelight.
Experience Scotland with this truly luxurious adventure. This trip can be extended if needed and altered to suit your exact requirements.

To book this experience, contact your lifestyle manager or contact our team by clicking HERE